Welcome!
Welcome to the Car Week part of my homepage. Those that know me know I am a bit of a car nut. For the last several years I've enjoyed driving down to the Carmel, CA area for Car Week. This event is nearly a week long gathering of car enthusiasts from all over the world near the end of August. It encompasses concours (shows), historic track events, nightly parties, auctions and more.
Even if you just drive down to the area especially during the latter part of the week you are sure to see some amazing vehicles, from classic cars, to exotics, to concept vehicles and once in a lifetime automotive wonders. Some events are free, others are expensive and invite only with everyrthing inbetween. Various events occur throughout the week culminating in the main Pebble Beach "Concours d'Elegance" on Sunday.
Since people often ask me about it and I often send the same emails, I decided to collate my information into this handy guide. I hope you find it useful. See links at the bottom of this page for many of the events and related items.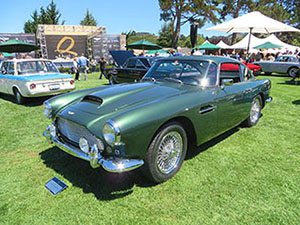 Photos
Car week is a car spotter and automotive photographer heaven. I have my rather amatuer gallery links on the left with literally thousands of photos. Good reference if you are curious to see what car week is all about and to see what some of the events (or random encounters) look like. I often stop at Carmel just to rest but also to take pictures. It's common to see many people out with cameras around Ocean and Dolores snapping photos as cars whisk by. Just walking around you can see a cool car every few minutes and sometimes every few seconds just by being there.
The Basics
What to do
You can't do everything, don't even try. If you want to be sane try to do 2 or 3 items a day. Because concours on Friday tend to overlap you will probably need to pick just one and then an evening event for example. I typically pick a morning or afternoon event to do each day, as well as an evening plan if I can, and then fill any empty time with driving through 17-mile drive or Carmel. Also as most concours are on golf courses with various terrain, plan to do a fair bit of walking and wear comfortable shoes.
What is going on depends on what day you arrive. There are several free events earlier in the week that include The Little Car Show or viewing the Tour d'Elegance and a few free Concours near the end of the week such as Porsche Werks Reunion and Exotics on Broadway. My personal choice has been to try to attend Fri and Sat for Concours and other events. Most people have arrived by then so even just driving around is an automotive adventure.
Where to Stay
The most important thing here, is to reserve early. If you wait even until half a year ahead chances are good that most locations will be booked solid. Car week hotels fill up fast, particular for the end of the week over Fri/Sat/Sun. In addition hotels know this is a high demand event and price accordingly. Expect to pay nearly double or triple what you might expect just because it is car week. Or look for areas outside of the main Carmel and Monterey location. It is not uncommon to make reservations 9-12 months in advance. Did I mention it's crowded?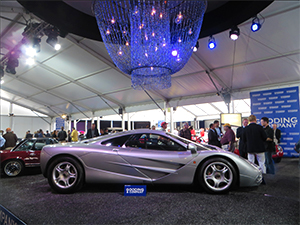 Attire and Weather
Clothing wise, attire varies based on venue. Generally speaking paid Concours events and the main Sunday event can be somewhat dressy occasions. Anything from suit and sport coats to a more business casual dress code. Weather can be fairly cold by the coast or during the evening, but also hot in the inland areas where most Concours take place. Bring comfortable shoes and sunscreen and dress in layers accordingly. For many of the free or lower key events a typical casual style will suffice. For other moderately priced events a business casual feel will fit right in. However, evening auction houses, Sundays Concours d'Elegance, and higher end venues like The Quail tend to be on the dressier side.
Traffic, Parking and Getting Around
Expect traffic. Lots of it. Just entering the Monterey/Carmel area can be backed up to Highway 101. Peak times when Concours start or let out and as evening events begin are worst. Even travelling 5-10 miles from a Concours to Carmel or another event can take an hour. That said general areas can be a bit more open during the day, but you never know. Be patient, enjoy the cars around you, and make sure your vehicles is fueled up.
Carmel in particular is almost always crowded. The exception is Sunday morning when most shops are still closed and when people are parking on 17 mile drive to be bussed into the main Concours. Parking around Carmel can take time and is often limited. As you can imagine food choices can also get busy at peak times, so reservations are always a good idea. Just keep looking, be willing to park further away, and be ready to parallel park.
All of that said driving around town is a blast. You will see various vehicles, even while stopped in traffic. Driving back roads, Highway 1, or 17-mile drive you are sure to have some random special car encounters. I always go into 17 mile drive each year at least a few times both to get to events and also to just enjoy the ocean and the other cool cars I see.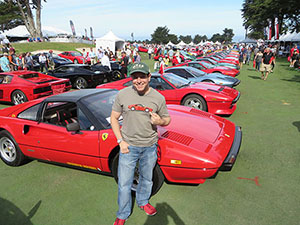 The Concours & Shows
The main theme for Car Week are the Concours events. These are shows, paid or free, that often take place on one of the many golf courses in the area. Early in the week some similar events that let you see vehicles right on Ocean Ave. in Carmel. Most of the marquee venues take place on Friday with the exception of the Italian event now on Saturday so that it doesn't conflict with the rest. The main culimination of the week is the "Concours d'Elegance" which takes place Sunday at Pebble Beach.
Tuesday - Concours-by-the-Sea
Sixteen blocks of downtown Carmel-by-the-Sea that showcase over 175 domestic and foreign collector vehicles. Typically 10:00am - 5:00pm
Wednesday - The Little Car Show, Carmel Mission Classic & Motor Lux
If you are a fan of all things micro-car check out this event. Takes place on Lighthouse Avenue in Pacific Grove. Typically 12:00 noon to 5:00pm. In addition the Carmel Mission hosts an event that places vintage and unique cars for a show. And in the evening the exclusive MotorLux (formerly McCall's Motorworks Revival) takes place at the Monterey Jet Center.
Thursday - Pebble Beach Tour d'Elegance
A number of the cars that are shown at Sundays main event drive a specific loop from 17-mile drive, down highway 1, and back to Carmel. When they return around lunch time they park along Ocean Ave. This is a great way to see many of the cool vehicles up close and for free. And to hear them runnung when they arrive and depart.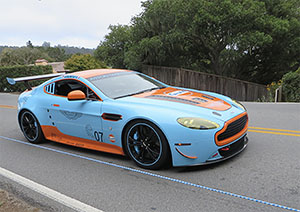 Friday - Various Marquee Concours
Porsche Werks Reunion, and The Quail a Motorsports Gathering are some of the events that take place on Friday. The former is free while the latter is one of the highest priced and most exclusive concours that requires pre-purchase. All of these events are worth checking out though my personal favorite is the Quail (if you can get in) and the Porsche event. Often times the parking "lot" is typically the greens of the golf course, and can be a show in itself. Note that Legends of the Autobahn (Mercedes-Benz, BMW, Audi etc) sadly was stopped a few years ago.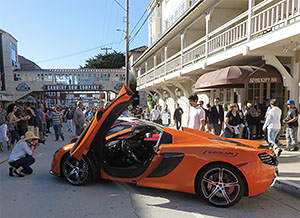 Saturday - Concorso Italiano / Exotics On Broadway
If you live and breath red sports cars, Concorso Italiano might be the event for you. A fairly large show with tons of Ferrari, Lamborghini, Alfa Romeo, Fiat, Maserati, Pantera and more. If you want to know what a "sea of red" looks like check out this event. You can purchase tickets that include food tents, or hit up one of several food trucks there. Go early to avoid high temps and longer food lines.
In addition Saturday afternoon and evening is now home to Exotics on Broadway. (Formerly Exotics on Cannery Row (EOCR)), a large and free event hosting the top of the line exotic cars from Ferrari and Lamborghini and Porsche to McLaren, Pagani, Koenigsegg and beyond. It used to run on Friday but as of 2018 EOCR has switched to a Saturday event. In addition it also used to be hosted right outside the Monterey Bay Aquarium but after overgrowing the location in 2018 it is now held in Seaside, CA for 2019 and on. The event will take place on Broadway Avenue between Del Monte Boulevard and Fremont Boulevard. The event will be FREE for spectators with shuttles to accommodate the crowds/parking. Check the EOCR/EOB website in July for more details.
Sunday - Concours d'Elegance
This main concours features top of the line vehicles, mostly pre-war with comptetive judging and awards. Expect a lot of crowds, and to park and take a shuttle bus into the area. If you are a super early morning person you can be a part of the "Dawn Patrol" who arrive before sunrise to snap photos of cars as they arrive on the lawn. The event also features a concept lawn, and several automotive manufacturers also have tents set up around the area as well.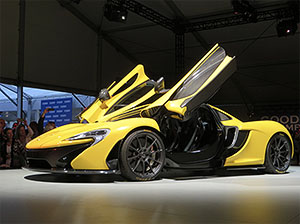 Auction Houses
Most auction houses have viewing hours during the day, and then actual auctions occur during the evenings Thursday, Friday and Saturday. Typically even viewing the vehicles has a fee to enter. If you plan to bid there is a bigger charge. That said paying to view some of these vehicles can be worth it for unique cars.
I tend to visit the auction sites nearer to the event to see what they may have then decide where to go. For example Mecum Auction has had things like Steve McQueens Porsche 930, a Ferrari California based on the chassis of one from Ferris Beuller Day's Off, and an Aston Martin Vulcan among cars on their lot.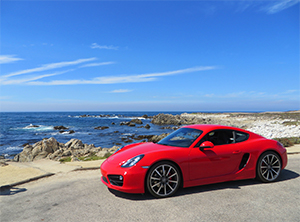 Other Venues
In addition to Concours and Auction houses there are other things to do during car week. For example visiting Retro Auto located at the Inn at Spanish Bay. This houses various collectibles, merchandise and car paraphenlia for sale as well as the yearly official Pebble Beach posters. Plus there are usually cool cars to check out there.
As you might imagine Mazda Raceway Laguna Seca is also in operation, and there are often historic cars racing around the track as a part of their "Rolex Monterey Motorsports Reunion". If you've never visited a track with historic cars racing around it is worth doing.
And of course driving through 17-mile drive, along Highway 1 to Big Sur and checking out the surrounding areas are always fun to do.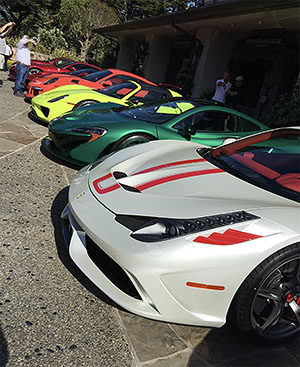 Official Pebble Beach Concours, Racing & Memorabilia
This is the offiical Pebble Beach car week page. A good place to start, and has a good visitor guide and information on the entire week each year. Also has the information to buy tickets for Sundays main event as well as links for many other events throughout the entire week.
Described as a museum springing to life, the Rolex Monterey Motorsports Reunion is the largest event held during the famed Monterey Classic Car Week, and is the only event where cars are doing what they were originally intended to do...race. Approximately 550 race cars are accepted from more than 1,000 entry applications to compete in the world's premier motoring event. Each entry is scrutinized and accepted based on the car's authenticity, race provenance and period correctness.
Located at the Ballroom in Embassy Suites is the largest automobilia show in America, and the only time during Concours/Race Week to find these 45 or so top international dealers in a single venue. Original vintage posters, photographs, plates, badges, and more. 10:00am-6:00pm

Now housed inside 17-mile drive at the Inn at Spanish Bay, this is a conference area filled with vendors for automotive memorabilia. From books and manuals, to collectibles, luxury goods, clothing, neon signs and official Pebble Beach Concours d'Elegance merchandise.

Concours Events
Kick off Car-Week with sixteen blocks of downtown Carmel-by-the-Sea that showcase over 175 domestic and foreign collector vehicles. Typically 10:00am - 5:00pm
Small and MicroCars line up on Lighthouse Ave. in Pacific Grove on Wednesday afternoon.
View a variety of vintage automobiles against the unique backdrop of the Carmel Mission on Wednesday. 10:00am-4:00pm
A number of the cars that are shown at Sundays main event drive a specific loop from 17-mile drive, down highway 1, and back to Carmel. You can gather in the morning by the Equestrian center to see them depart, or line up along the route. Then visit downtown Carmel where they parking around lunchtime for a few hours to get an even closer look. This is a great way to see many of these extremely rare and vintage vehicles up close and for free.
Possibly the most expensive concours, even more than the main Sunday event, but the most amazing. See top of the line vehicles up close, many of which will be on display behind ropes on Sunday, along side multiple high end dining and drink stations at the Quail golf course. Entry is limited, and requires pre-signing up to win their lottery system months in advance. If you 'win' the lottery, you are informed and can then purchase tickets. Higher end cars, clientele and attire. The parking lot for the event (if you can get there) can be a show in itself. Should be on your bucket list if you are willing to pay.

This has so far been a FREE concours event which is nice. All Porsches. If you are a Porsche fanatic this is the event to go to. Like most concours the event is on Friday.
This is page for the Italan Concours show now on Saturday. Get event information, and buy tickets for it there. Ticket prices are on the lower end for car week events if you pre-purchase, but continue to rise over time unti the event.
A play on the name of the famous endurance race known as Le Mans, the Concours d'Lemons is sometimes known as the anti-concours. Looking for more Pinto and not Porsche? Hoopties, Rust Buckets, Misfits, Mistakes and the worst of the automotive world will be on display by Seaside City Hall on Saturday.
After just a few years this event has already taken off. Totally FREE, now located in Seaside, CA view some amazing special, rare, and cool exotic cars. From Ferrari, Lamborghini and Porsche, to Pagani, Koenigsegg, and more. If you breathe "fast cars" check it out. Now on Saturday from 3pm-8pm as of 2018 and relocated due to size to Broadway Ave in Seaside, CA for 2019.
Rally and Evening Events
An exclusive evening event that takes place Wednesday night at the Monterey Jet Center.
An unofficial "cruise-in" with everything from street-rods, classics, custom cars and motorcycles to exotics. Generally 5pm-closing, enjoy the informal gathering of cars in the parking lot of the Baja Cantina Mexican restaurant around the corner from the Quail lodge.
Free for spectators, various vintage, show and sports cars line up at Lighthouse Ave. in Pacific Grove, and then cruise through the streets and 17-mile drive. Presented by the Rotary Club of Pacific Grove, drivers show their cars during Friday afternoon, drive the route and end with a barbeque dinner.
View various Ferrari's on display at the Barnyard shopping plaza. Beautiful cars, local wines, plenty of delicious food, and live music all among the Barnyard's signature gardens Saturday evening.
Auctions
As seen on TV. Located at the Hyatt Regency. Parking in on dirt/grass. As are most events. There is a fee to both enter to just view and a higher fee to bid. That said there are usually some cool cars there that are worth checking out. It's a nice place to go early in the day before hitting other events.
If you want to see multi-million dollar cars cross the auction block, or simply peruse during the day this is one of the high end auction houses. Typically located in 17-mile drive at the Equestrian Center.

Another high end multi-million dollar car auction house located at the Quail Lodge and Golf Course. This event is also tied to The Quail Motorsports Gathering.

Another high end multi-million dollar car auction house located at the Portola Hotel & Spa. Even if you don't got to bid you can check out some of the hotel lobby or pay to peruse cars before they enter the auction house.

Another auction house located at Fishermans Wharf area of Monterey.

Another auction house located at the Monterey Marriott in downtown Monterey.